Siamese cats are usually healthy, like most cat breeds. However, they may be prone to health issues due to genetics or breeding history.
Are you getting a Siamese cat? Do you already have one? 
Let's learn whether Siamese cats are easy or hard to care for. We'll also explore common health issues they might face and debunk some misconceptions. Plus, I've got some tips to ensure your Siamese cat thrives!
Are Siamese Cats Hard To Care For?
Caring for Siamese cats is not difficult, as long as you understand their nature and needs. 
You can provide good care by giving them plenty of attention and mental stimulation. This task seems demanding, right? But the sense of companionship they give outweighs the challenges of caring for them.
Taking care of Siamese cats' health requires a little extra effort. You must stay up-to-date with their vaccinations, vet check-ups, and grooming schedule. 
These are all important to keep them healthy and give them the right food. You can't forget about their nutrition! Caring for them properly and a little more will work wonders in keeping them healthy and content.
What Are Some Common Misconceptions About The Health Of Siamese Cats?
Misconception 1: "Siamese cats are prone to breathing problems because they're so chatty."
Fact: Nope! Being vocal doesn't automatically mean Siamese cats will have respiratory issues. Our cats may develop breathing problems mainly due to environmental allergens.
Misconception 2: "Siamese cats always have dental issues."
Fact: This is not true! Siamese cats, like any other cats, can develop dental issues if they do not receive proper dental care. It does not necessarily mean they will always have dental problems. Regular tooth brushing and dental treats can effectively help prevent such issues.
Misconception 3: "Siamese cats are more prone to kidney issues than other cats."
Fact: All cats, regardless of breed, can be prone to kidney issues as they age. Good hydration and a balanced diet can help prevent kidney problems.
Misconception 4: "Siamese cats are always aggressive and hard to handle."
Fact: This is not true at all! Siamese cats have their personalities and temperaments, like any other cat breed. They can be assertive and outgoing, but not inherently aggressive and hard to handle. 
Each cat is unique. Their environment and past experiences can influence their behavior. Socialization and positive reinforcement training can help shape their behavior and prevent aggression.
Do Siamese Cats Commonly Inherit Genetic Health Issues?
Siamese cats can inherit health issues due to genetics. The good news is that it's rare. Sadly, some Siamese cats may develop eye conditions. Responsible breeding practices can reduce the chances of passing on these health issues.
1. Crossed eyes (Strabismus)
Siamese cats may develop crossed eyes due to genetic factors. This is when their eyes do not align properly and appear misaligned or crossed. Did you know this condition can also affect their vision and depth perception?
2. Involuntary Eye Movements (Nystagmus)
Siamese cats with nystagmus may experience jerking or shaking movements of their eyes. This condition can make cats feel dizzy and disoriented. It can also affect their ability to see clearly.
3. Retinal degeneration
Siamese cats may also inherit progressive retinal atrophy. Genetic mutations cause this degenerative condition of the retina. Retinal degeneration can lead to a gradual loss of vision over time.
What Are The Typical Health Concerns For Siamese Kittens?
Siamese kittens can be vulnerable to particular health concerns. Here are some that Siamese kittens may encounter:
What Health Problems Do Senior Siamese Cats Commonly Face?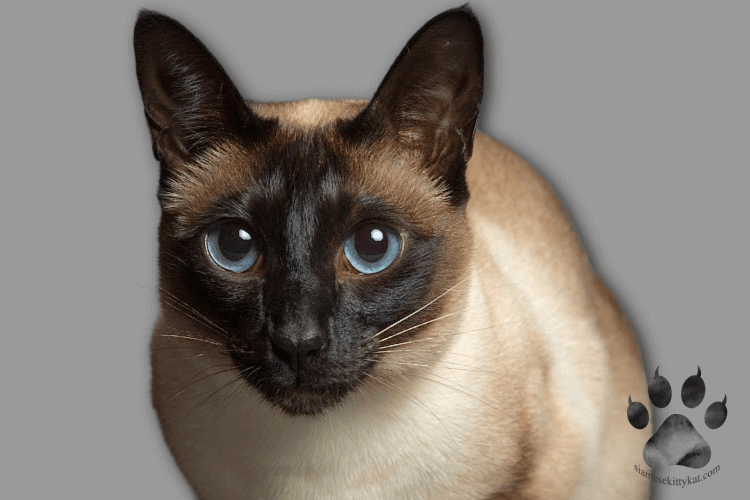 Senior Siamese cats may be prone to specific health problems related to aging. 
Here are some common health issues that senior Siamese cats may face:
Do Siamese Cats Have Shorter Lifespans Than Other Cats?
Siamese cats do not necessarily have shorter lifespans than other cats. They have an average lifespan of 12 to 15 years. This is the same as the average lifespan of many different cat breeds.
Our Siamese cats can live just as long as others with proper care. 
What Health Precautions Should Siamese Cat Owners Keep In Mind? 
Here are essential health precautions you should remember as a Siamese cat parent: 
Is your cat showing signs of illness or behavioral issues? Seek help from a vet or certified animal behaviorist. They can provide personalized guidance to address your pet's current needs. Learn when to seek emergency medical care for your cat here.
Thanks for reading!
Get your FREE Siamese Cat 2024 Printable Calendar