Is your Siamese cat dealing with fleas? You're not alone! Many cat owners, including myself, have encountered this struggle.
Fleas can be a real nuisance. They can cause discomfort and pain to your Siamese cat. They can even cause potential health issues if you don't take action immediately.
These are the best steps on how to get rid of fleas on your Siamese cat:
I did not expect Batman, one of my Siamese cats, to have a flea problem. This happened shortly after I brought him home.
Initially, I thought Batman was grooming and scratching himself more often. Then I noticed tiny, dark bugs crawling in his fur. I knew I needed to take care of the fleas immediately.
I consulted with my vet. She recommended flea medication and flea shampoo for Batman. Also, I did some research and found some helpful natural remedies.
I combined these treatments to remove the fleas over the following few weeks. Thankfully, the fleas were gone, and Batman was much more comfortable.
Read on! This guide will help you get your cat free from pesky fleas.
1. Applying Flea Medication
Flea medication is an essential part of keeping your furry friend healthy. It prevents and treats flea infestations.
How Do I Apply Topical Treatment To My Siamese Cat?
How Do I Administer Oral Flea Medication To My Siamese Cat?
Fleas can cause discomfort and intestinal problems for your cat. They can also irritate your cat's skin and cause allergies.
This is why you should talk to your vet about flea medication. Your vet can recommend the best treatment options for your cat.
2. Using A Flea Shampoo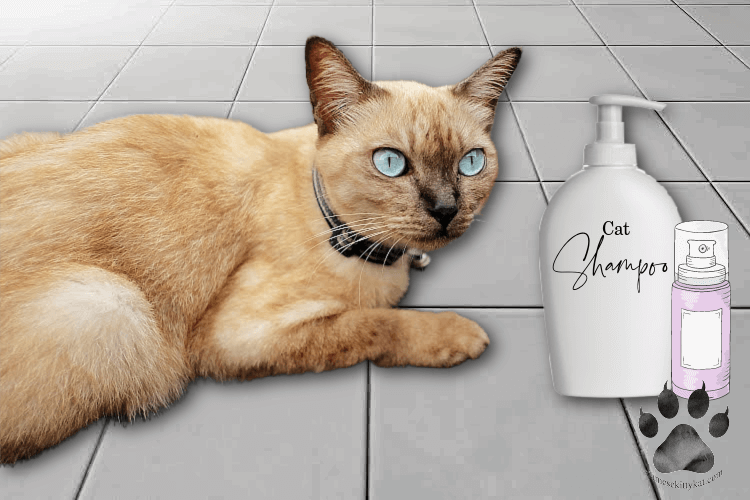 Using flea shampoo on your cat is essential to prevent fleas from returning.
What Is The Proper Way To Apply Flea Shampoo On My Siamese Cat?
3. Using A Flea Collar
Using a flea collar on your cat can stop fleas from infesting your feline friend.
How Do I Use A Flea Collar On My Siamese Cat?
4. Using A Fine-toothed Flea Comb
Flea combing is an essential part of flea prevention. Do it regularly, especially during flea season. Use a flea comb with fine teeth for this.
A fine-toothed flea comb can effectively remove fleas and flea dirt from your cat's coat.
How Do I Use A Flea Comb To Control Fleas On My Siamese Cat?
5. Using Diatomaceous Earth
Diatomaceous earth is a safe, natural product. It is a type of fine powder made from microscopic algae called diatoms.
The powder contains tiny particles with abrasive properties. The particles can damage the tough outer shells of fleas.
Using the powder will cause the fleas to lose moisture and eventually die.
How Do I Use Diatomaceous Earth For My Siamese Cat's Flea Control?
6. Using Apple Cider Vinegar Solution
Apple cider vinegar can help treat a flea infestation. You can use it along with flea medication as an extra measure for flea control.
How Do I Use Apple Cider Vinegar To Treat Fleas On My Siamese Cat?
7. Washing The Cat Bedding In Hot Water
How Do I Wash My Siamese Cat's Bedding Properly?
8. Vacuuming The House Regularly
What Is The Proper Way To Vacuum The House To Remove Flea Eggs?
9. Treating Your Home Using A Flea Spray
There are different types of flea spray. You have to ensure that the spray you choose suits your needs.
Look for one that contains an insecticide like pyrethrin. Pyrethrin is effective against fleas.
How Do We Treat Our Home For Fleas?
To Wrap It All Up
Getting rid of fleas involves treating your Siamese cat and your home. Don't worry! The steps are more manageable than they may seem! I hope this guide can help you out.
You can start with topical or oral flea medications and washing your cat's bedding. You can also try apple cider vinegar and diatomaceous earth to provide extra help and relief. These natural remedies can be a great addition to your flea control measures. 
Remember, prevention is key! Keep your cat groomed with regular combing to prevent flea problems.
Thank you for reading!
Get your FREE Siamese Cat 2024 Printable Calendar