There's something about Siamese cats that seems to attract famous people. Maybe it's their blue eyes, lithe bodies, or elegant dispositions. Whatever the reason, Siamese cats have been established as the ultimate celebrity cat. 
In this article, I've rounded up 99 famous people who love Siamese cats. I can't speak for all the listed people here. However, I can say that, in general, Siamese cats are the most people-oriented cat breed. 
What more could you ask for in a feline companion? 
Siamese History and Personality 
The Siamese cat is a feline breed from Thailand, where they are believed to be sacred. Evidence shows that Siamese cats were bred as early as the 19th century. However, the modern Siamese breed was developed much later. 
The Siamese cat is one of the most vocal cat breeds, with its distinctive and loud meow. They are intelligent, curious, and love being the center of attention. They are very affectionate and friendly, meowing to greet other cats or humans. 
Siamese cats can also be quite territorial. They need much stimulation, as they are active and excitable. 
List of Famous People Who Love Siamese Cats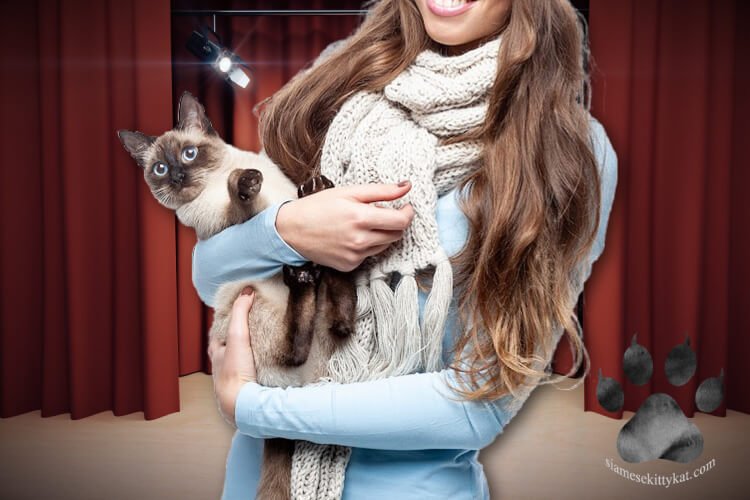 Siamese cats are famous among celebrities, and it's not hard to see why. From actors to musicians, plenty of famous people owned Siamese cats at some point in their lives. 
Here are a few of them: 
1. President Rutherford B. Hayes 
Rutherford B. Hayes was the 19th President of the United States from 1877 to 1881. He was the first President to bring a Siamese cat into the White House. 
The family named her Siam. She was one of the many animals roaming around the White House during Hayes' presidency. 
A popular breed in Asia, the Siamese cat, was unknown in the West then. Siam quickly became a sensation in newspapers and magazines across the country. 
2. President Gerald Ford 
President Gerald Ford was the 38th President of the United States, serving from 1974 to 1977. 
President Ford had one Siamese cat while he was in office. The cat's name was Shan. 
3. Susan Ford (daughter of President Gerald Ford)
4. President Jimmy Carter 
Having a Siamese cat continued during President Carter's administration. He was the 39th President of the United States, serving from 1977 to 1981. 
His daughter, Amy, named the cat "Misty Malarky Ying Yang."
5. Amy Carter 
6. Elizabeth Taylor 
Elizabeth Taylor was a British-American actress. She was very attached to her Siamese cats and found comfort in their company. She even gave a Siamese kitten to her friend James Dean. She hoped it would bring him the same peace her cats brought her. 
7. James Dean
James Dean was an actor in the 1950s known for his Rebel Without a Cause persona. 
Dean had a Siamese cat named Marcus. 
8. Laurence Oliver 
Laurence Oliver was one of the greatest actors of the mid-20th century. He was a master of both the stage and the screen. His performance in Shakespeare's "Hamlet" is one of the finest. 
9. Vivian Leigh 
Vivian Leigh was an English actress best known for her roles in "Gone with the Wind" and "A Streetcar Named Desire." 
Leigh had several Siamese cats as pets, often seen accompanying her. Her favorite was "New Boy," a gift from her husband, Laurence Oliver. 
Leigh once said that she found Siamese cats to be "intelligent and affectionate." She considered them her "good luck charms." 
10. Olivia De Havilland 
Olivia De Havilland, can be seen in classic films like Gone with the Wind and The Heiress, was a Siamese cat lover. 
11. Clark Gable 
Clark Gable appeared in over 60 films. These include some of the most famous movies ever made, such as Gone with the Wind and The Misfits. 
12. Carole Lombard 
Carole Lombard was an American actress who appeared in some of the most popular films of the 1930s. She was known for her comedic roles and marriage to actor Clark Gable. 
13. Fred Astaire
Fred Astaire was an American dancer and actor. He is best known for his work in Hollywood musical films, but he also danced on stage and on television. 
14. Ava Gardner 
Ava Gardner is best known for her roles in classic films like The Killers and the Earthquake. But she was also a devoted animal lover, particularly a big fan of Siamese cats. 
15. John Lennon 
John Lennon was one of the most influential musicians of the 20th century. He rose to fame as a member of the Beatles. He helped shape the sound of popular music and change the course of popular culture. 
16. Elizabeth Montgomery 
Elizabeth Montgomery, known for the TV series Bewitched, was also an avid cat lover. 
17. Grace Kelly 
Actress Grace Kelly was known for her elegance and poise on and off-screen. Kelly adored her Siamese cat and took him everywhere with her, even on movie sets. 
18. Jane Fonda 
Jane Fonda has always loved cats; she once had a Siamese cat she adored. 
19. Frank Zappa
Frank Zappa was a legendary musician. He was recognized for his innovative and experimental approach to music. He was also known for his love of cats and often traveled with his Siamese cat, Gorgonzola. 
20. Andy Warhol 
Andy Warhol was a renowned artist in the 20th century. One of his famous quirks was his Siamese cat. Warhol's cat accompanied him to his studio and was featured in some of his artworks. 
21. Jean Simmons 
Jean Simmons, a British actress, was best known for her roles in "Spartacus" and "The Big Country." 
22. Monica Vitti 
Monica Vitti is one of the most acclaimed actresses of her generation. She is also well-known for her love of Siamese cats, which often appeared in her films. 
23. Sid Barrett 
Sid Barrett was a musician and artist best known for his work with the band Pink Floyd. He was also known for his love of cats, particularly his Siamese cat. Barrett was often seen carrying his cat around with him. 
24. Michèle Morgan 
Michèle Morgan is a French actress who has appeared in several films. Her most notable roles were in Port of Shadows (1938), The Grand Maneuver (1955), and The Proud and the Beautiful (1953). 
She has been nominated for many awards, like the Cannes Film Festival Award for Best Actress. 
25. Anthony Perkins 
Anthony Perkins was an American actor best known for his role in the 1960 film Psycho. 
26. Jean Cocteau 
Jean Cocteau was a prolific writer, artist, and filmmaker who was also quite fond of his Siamese cat. 
27. Michael Landon 
Michael Landon was an actor, director, producer, and writer. He was best known for his roles in Bonanza, Little House on the Prairie, and Highway to Heaven. 
28. Dorothy Provine 
Dorothy Michelle Provine was an American actress and singer. She appeared in films and television shows. Her best roles were in the 1960s TV series The Roaring 20s and the film That Darn Cat! (1965). 
29. Helga Sandburg 
Helga Sandburg is the youngest daughter of poet Carl Sandburg. She is an author, a poetess, and a passionate advocate for her father's legacy. 
30. Claudia Cardinale 
Claudia Cardinale is an Italian actress best known in films such as The Leopard and Once Upon a Time in the West. 
31. Kesha 
Kesha Rose Sebert, better known as Kesha, is an American singer and songwriter. Kesha rose to prominence in the early 2010s with her debut album, Animal, and with the lead single, "Tik Tok." 
Kesha's music is often described as "party music" or "dance-pop." She has been credited with helping to bring electronic music into the mainstream. 
She is the proud owner of a Siamese cat, who she has named Mr. Peeps. 
32. Famke Janssen 
Famke Janssen is a Dutch actress, director, and screenwriter. She is best known for her role as Jean Grey in the X-Men films. 
33. Rod Stewart
Rod Stewart is a British rock singer and songwriter who achieved massive success both in the UK and the US. His career has spanned over five decades, during which he released hit singles and albums. 
34. Davy Jones 
Davy Jones was an actor and the lead singer of The Monkees. 
35. Kim Novak 
Novak's most famous role was in the 1958 film Bell, Book, and Candle. She played a witch who casts a spell on her neighbor, played by James Stewart. 
Novak's character poses with her Siamese cat named Pyewacket. Pyewacket was actually Novak's own cat, and she often took him with her to Hollywood studios and film sets. 
36. Ricky Gervais 
Ricky Gervais is an English comedian, actor, and director. He is most famous for his role in the popular sitcom The Office. 
On March 2020, Ricky took to social media to say goodbye to his 17-year-old Siamese cat, Ollie. 
The news came after a period of poor health for the cat, during which Gervais kept fans updated on his progress. "Just had to say goodbye to the sweetest little soul I've ever known," Gervais wrote on Twitter. 
Ricky thanked everyone for their kind words and support during this difficult time. 
37. Taylor Swift 
Taylor Swift's parents have two cats, Indy and Eliehsen, who are Siamese-Tabby mixes. 
There's no denying that Taylor Swift also loves cats. She posts pictures and videos of her two cats, Meredith Grey and Olivia Benson, on social media. The names of her two cats were from her favorite TV shows, Grey's Anatomy and Law & Order: SVU. 
Both of her cats are Scottish Folds, a cat known for their distinctive folded ears. 
38. Queen Elizabeth II 
Queen Elizabeth II has been an avid fan of Corgis since she was young. She has owned more than 30 of these dogs throughout her lifetime. 
Many people don't realize that she used to be a cat parent as well. In 1947, she received a seal point Siamese kitten named "Corsham Royal Boy." It was a wedding present when she married Prince Philip. 
39. Princess Michael of Kent 
Princess Michael of Kent has always been a big animal lover. Her passion for felines began when she rescued a baby cheetah on her father's farm in Africa. She's been involved in several animal welfare initiatives since then. She owns several Siamese and Burmese cats and horses, and dogs. 
40. Karl Lagerfeld 
Karl Lagerfeld is an iconic fashion designer. He's known for many things – his lavish lifestyle and his love of all things Chanel. But one of his lesser-known passions is his Siamese cat, Choupette. 
Choupette has her own two maids, who take care of her every need. Needless to say, Choupette lives a life of luxury. 
41. Anita Ekberg 
Anita Ekberg was an actress and model known for her appearance in Fedirico Fellini's La Dolce Vita. 
42. Mary Jane Russell 
Russell began her career as a model, appearing in magazines such as Vogue and Harper's Bazaar. 
43. Joe Mantegna 
Joe Mantegna is an American actor, producer, and director. He appeared in movies and TV shows like The Godfather III and Criminal Minds. 
He had a Siamese cat named Julie. 
44. Brandon Lee 
Brandon Lee, son of martial artist Bruce Lee, was an up-and-coming actor in the early 1990s. He died in a freak accident on the set of The Crow in 1994. 
45. Ann Margaret 
A five-time Golden Globe winner, she is best known for her roles in films like Bye Bye Birdie and Viva Las Vegas. 
46. Ginger Rogers 
Ginger Rogers starred in some of the most iconic Hollywood films in the 1930s, such as the Top Hat and Swing Time. 
47. Margaret Lockwood 
Margaret Lockwood was an English actress who was very popular in the 1940s. She was also known for her love of Siamese cats and often appeared in public with one of her cats. 
48. Peter Lorre
Peter was a renowned Hollywood actor for his roles in horror and mystery films. 
49. Jason Mason 
Actor James Mason and his wife, actress and author Pamela Kellino, were cat lovers. They were very public about their love for their feline friends. The couple had several cats, including Toy Boy, Tribute, and Whitey Thomson. 
In 1949, they published a book entitled The Cats in Our Lives. It was a collection of stories about their cats, who always brightened their lives. 
50. Pamela Kellino 
51. Greer Garson 
Greer Garson was known for her grace and ability to bring a character to life on the big screen. She appeared in many films during the 1940s and 1950s and was one of the most sought-after actresses of her era. 
Garson was also known for her philanthropy and was active in some causes throughout her life. 
52. Paul Newman 
Paul Newman was one of his generation's most successful and celebrated actors. Newman starred in some of the most iconic films of the 1960s and 1970s. These include Cool Hand Luke, Butch Cassidy and the Sundance Kid, and The Sting. 
Here are other famous people who have been won over by the charms of the Siamese cat: 
53. Ursula Andress
54. Roberta Flack 
55. Rod McKuen 
56. James Stewart
57. Lily Allen 
58. Charlie Chaplin
59. Ali McGraw 
60. Debbie Harry 
61. Ellen DeGeneres 
62. Jane Powell
63. Jim Henson 
64. Pablo Picasso 
65. Deborah Kerr 
66. Burt Ward 
67. Alice Cooper 
68. Dirk Bogarde 
69. Tom Baker 
70. Cary Grant 
71. Jayne Mansfield 
72. Betty White 
73. Naga Munchetty 
74. David McCallum 
75. Jill Ireland 
76. Anna Maghani 
77. Glenda Farrell 
78. Patricia Highsmith 
79. Marilyn Monroe 
80. Clint Eastwood
81. Jean Michael Basquiat 
82. Merle Oberon 
83. Daryl Dixon 
84. Helen Gurley Brown 
85. Amy Poehler
86. Nichelle Nichols 
87.Marlene Dietrich 
88. Robert Goulet 
89. Errol Flynn
90. Sophia Loren 
91. Eddie Van Halen 
92. Cindy Crawford 
93. Carla Bruni 
94. Dirk Bogarde 
95. Brigitte Helm 
96. Freddie Mercury 
97. Tom Jones
98. Michael Bolton 
99. Reymond Burr
Why are Siamese Cats so Popular?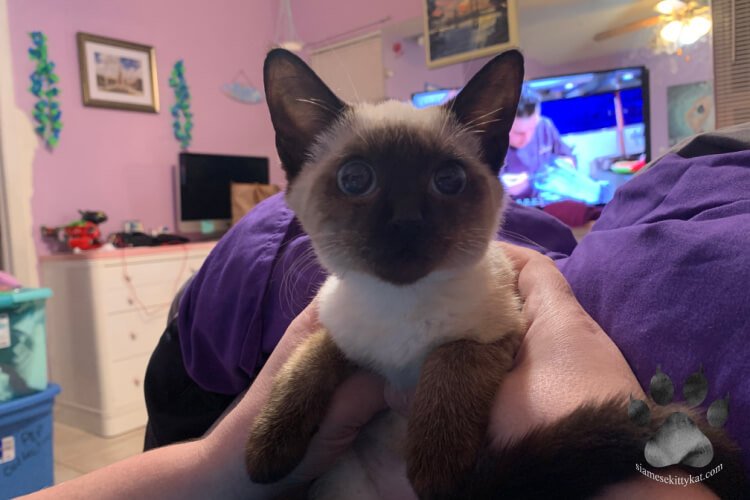 The Siamese cat's personality makes it a trendy breed. They are very sociable and are perfect companions for people living alone. 
Siamese cats can also be highly affectionate, especially when living in larger households. They will get along with most other pets and humans. This breed is also known for having striking blue eyes and a playful and curious personality. Siamese cats are intelligent, and many enjoy learning new tricks. 
Conclusion
Siamese cats are one of the most popular cat breeds in the world. They're elegant, smart, and have loads of personality. With so many famous people loving them, it's obvious why Siamese cats have been so popular for so long. 
They're one of a kind, and they make lovely pets. Don't worry about not knowing many famous people who love Siamese cats. You can still enjoy all the benefits of having one of these cats as a companion. 
Get your FREE Siamese Cat 2023 Printable Calendar