Ear infections are a frequent problem in Siamese cats. It's disheartening to hear, but it's the truth. Our adorable kitties are prone to ear infections.
Ear infection in cats (Otitis externa) involves inflammation of the external ear canal. The infection may sometimes reach the cat's inner ear (Otitis interna). It may end up causing ear discharge, redness of the ear flap, wax accumulation, and an unpleasant odor. It may also lead to hearing loss if not treated.
If ear infections aren't taken care of, it could lead to more serious complications. It can be difficult to tell when cats have ear infections because they tend to hide their discomfort and pain.
I know this because it happened to Batman, my Siamese cat, a year ago. We were so surprised to hear about the infection, and I was unhappy and worried about him! I recall telling myself I needed to learn more about what signs to watch out for. That way, I could take care of my sweet kitties better.
If you're unsure about the signs and causes of ear infections and when to seek vet care, I'm here to help you.
Let's find out what causes an ear infection, its indications, and what to do about it. Also, I have some helpful tips for keeping your Siamese cat's ears from getting infected! Keep reading to learn more!
What are the signs that my Siamese cat has an ear infection?
Sometimes, it's difficult to discern if Siamese cats have an ear infection. The most common sign is pawing at their ears, but we often mistake this for their grooming behavior. 
Here are some more signs your Siamese cat might have an ear infection:
1. Earwax blockage or excessive wax accumulation in your cat's ear canal
Most Siamese cats have a small amount of earwax that often makes its way to the ear opening. It gets washed away or falls out at the opening, and new wax takes place. 
But when your Siamese cat has an ear infection, your cat's ear makes too much wax, which can cause it to build up. This can come with an earache and an itchy feeling too.
2. Redness and swelling of the ear flap and ear canal
Redness and swelling often happen when an ear infection keeps coming back. The redness and swelling could be from bacteria and fungi problems or food allergies.
Your Siamese cat's inner and outer ears will feel itchy and will be in a lot of pain.
3. An unpleasant odor emanates from the ear.
It most often stinks when there's an infection in your Siamese cat's ear. . There is a discharge stuck in the ear canal, which makes your cat's ear smell terrible. 
An unpleasant odor is a sign that your Siamese cat's ear got infected with bacteria or fungus. It tends to come with sharp pain, itching, and ear swelling.
4. Your cat's ear has a black or yellowish discharge.
A common sign of an infection is a recurring black or yellow discharge from the ear. It may go on for longer than a few days. Continuous ear discharge in cats indicates a middle ear infection (Otitis media). 
Your Siamese cat may also be experiencing ear pain, a cat cold, and loss of balance.
5. Temporary hearing loss
Hearing loss can arise from an ear infection. He may lose sensorineural hearing for a short time If your Siamese cat has an ear infection.
Ear infections can cause congestion or too much fluid in the ear. It can also cause temporary hearing loss. Don't worry! Your Siamese cat wil be able to hear again after the infection gets treated.
What causes ear infections in indoor cats?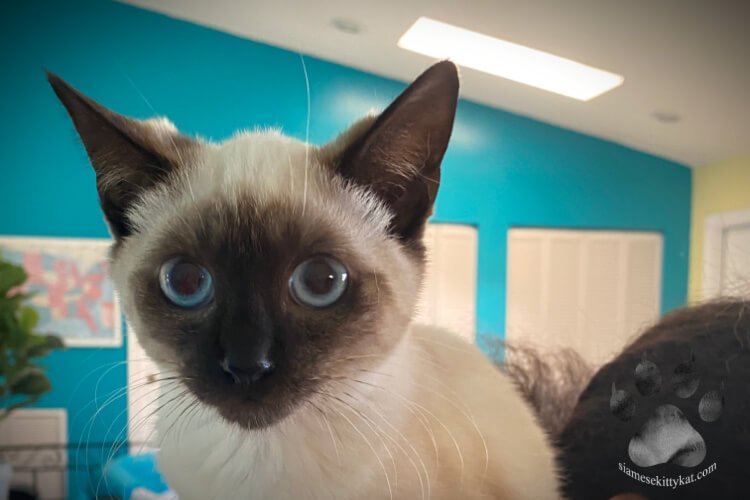 Ear infections can be bothersome and itchy for indoor cats. It's essential to figure out why your cat has an ear infection, so they can get the proper treatment and feel better. 
Here are the main reasons why indoor cats get ear infections: 
1. Ear mites attack skin cells in the cat's ear.
Ear mites feed on earwax. You can't see them because they are so small. These mites make your cat's ear itch and leave behind a flaky, dry substance in the inner ear. The outside of your Siamese cat's ear may also get flaky due to ear mites.
These tiny mites can also cause severe itching on your cat's head and neck, and can last many weeks.
2. More yeast and bacteria are around and inside the cat's ear.
Many bacteria and yeast live and grow in the ear canal. A large number of these can cause ear infections. Your cat may experience itching, a foul smell from the ear, black or yellow discharge, and sharp pains in the ear. If a large amount of bacteria or fungi is the cause of the infection, it is crucial to treat the problem fast.
3. They have food allergies.
We've all heard that food allergies can cause skin problems. Did you know they can also lead to itchy ears and ear infections? Food allergies cause congestion contributing to the cat's ear infection. Fluids that build up in your cat's middle ear can cause the infection.
4. Foreign objects lodged in the cat's ear canal
Small strange items can sometimes get stuck in your Siamese cat's ear canal. It happens more often with kittens. Siamese kittens have so much energy and are always exploring. Their inquisitive behavior might cause them to grab on small items which can get lodged in the ear canal.
5. They have weak immune systems.
Siamese cats whose immune systems aren't as strong are more likely to get an infection. Felines with weaker immune systems also have difficulty getting rid of ear infections. Paying attention to your cat's health and dietary needs is essential.
6. They have diabetes.
Siamese cats with diabetes are more likely to get Otitis externa over time. 
This ear infection may spread to the cat's face if untreated. It happens because your Siamese cat has high blood sugar and poor blood flow.
7. The presence of polyps or tumors in the cat's ear area
A polyp is a growth on the cat's outer ear canal. It could get big and cause an ear infection.
Tumors can also grow in the middle ear. They are grape-like clusters of inflammatory tissue. They can cause ear infections and may cause more problems with clogging.
Do ear infections in cats go away on their own?
Ear infections in Siamese cats don't go away on their own. They can get more painful if not treated early. 
Your Siamese cat's immune system can fight simple infections most of the time. Ear infections need prompt diagnosis and treatment.
Seeking vet care can help your Siamese cat feel better and reduce complications.
Why is it important to treat my Siamese cat's ear infection?
1. To prevent your Siamese cat from experiencing facial paralysis. 
2. To protect your furry cat from being in constant pain. 
3. So your Siamese cat doesn't lose his balance and coordination. 
4. To prevent feline deafness 
5. To prevent possible serious health issues.
How can I keep my Siamese cat's ears from becoming infected?
1. Examine your Siamese cat's ear on a regular basis.
2. Check your cat's ears. Make sure they don't smell or don't look red.
3. Don't put anything in your Siamese cat's ear canal.
4. See a vet if you think your furry pet has an infection.
5. Get the advice of your Siamese cat's vet before using any ear cleaning products or liquid drops.
What should I do if my Siamese cat has an ear infection?
1. Seek the vet's help. Ask for suggestions on how to clean your Siamese cat's ears. Ask for the best and most recommended medication drops.
2. When cleaning your Siamese cat's ears, put your furry friend on your lap and wrap them in a blanket or towel. 
3. Write down in your notebook or phone notepad which ear needs treatment. It may seem silly, but sometimes we forget whether it's the right or left ear. 
4. Clean the unaffected ear first. 
5. Clean the infected area well. After you clean the infected ear, wait 10 minutes before using the medication drops. 
6. Massage the base of the infected ear after medicating. Do not include medication on the ear that is not infected. 
7. Use positive reinforcements. Give your furry cat goodies or treats after cleaning or medicating his ears. 
8. After you put a few drops of medicine in their ears, pet them and tell them that healthy treats are coming next. 
9. Don't forget to wear disposable gloves when cleaning and medicating your cat's ears. 
10. Wash your hands after cleaning and medicating. 
11. Watch for signs or changes to know if the medication works for your cat. 
12. Plan a follow-up visit to see if the treatment worked well.
To Wrap it All Up
Make a vet visit as soon as possible if your Siamese cat displays any signs of an ear infection. Do not put your cat through long-term pain and discomfort. Seek vet care early to get your cat on the road to recovery!
Thank you for reading! I hope you have learned much from this post.
Get your FREE Siamese Cat 2024 Printable Calendar