One of the most popular cat breeds in the world is the Siamese, and for a good reason. These cats are stunning, with their striking blue eyes, sleek coats, and regal bearing. You'll want to make sure their birthday is extra special if you have these beautiful creatures. 
I have two beautiful Siamese cats named Batman and Robyn. They are my best friends, who I love the most. I make sure to celebrate their birthday every year. 
I give them a special treat on their birthdays and spend extra time playing with them. 
Celebrating their birthdays is a way for me to show how much I care about them and how special they are to me. 
I have put together a list of fun ways you can celebrate your feline friend's special day. Be sure to give your fur baby an extra special treat!
Why Celebrate Your Siamese Cat's Birthday? 
A birthday is a special day to celebrate the life of someone you love. Thus, what could be more special than celebrating the life of your furry best friend? Your Siamese cat is a part of your family and deserves to be celebrated on its special day! 
Here are some reasons to celebrate your Siamese cat's birthday. 
1. Celebrating your cat's birthday is a way to show them how much you love and appreciate them. It's a chance to let them know that they are loved and cherished, and that they bring joy to your life every day.
2. It's an excellent opportunity to create a strong bond between the two of you. Your cat will know they are the center of your attention on this special day. This can help to create a strong foundation for a lifelong friendship. 
How to Celebrate Your Siamese Cat's Birthday 
Your cat is a big deal. She's a big part of your life, and there's no way you'll let her birthday go by without celebrating it to the fullest. 
I start by giving Robyn a good brushing during this birthday, since she loves to be pampered. Then, I give her a can of tuna as a special treat. I also play with her a lot, since she loves to run and chase after things. 
After a long day of fun and games, I give her a final treat of a catnip-filled toy to help her relax and wind down before bed. It's always a fun day when it's her birthday, and I know she enjoys it as much as I do! 
There are lots of fun ways to celebrate your Siamese cat's birthday. Here are 21 ideas to get you started: 
1. Breakfast is the most important meal of the day. It's only fitting to have a celebratory breakfast to start the occasion. Get up a little earlier and make them a special breakfast. Include their favorite foods and maybe even a few new treats.
2. Make some homemade cat toys. You can use old socks or fabric scraps to make a toy bird or mouse, which your cat will love to chase and pounce on. 
It's also a great way to save money on store-bought cat toys that can be expensive. 
3. A fun way to celebrate your Siamese cat's birthday is to bake cat-shaped treats. You can make some homemade cat cookies with a simple cat-shaped cookie cutter. You can also buy some pre-made cat treats from the store. 
Be sure to use a safe recipe for cats, as some ingredients can harm them. You can also add a bit of catnip to the treats to make them even more irresistible to your kitty. 
4. Celebrate your Siamese cat's birthday by throwing a party! There are so many ways you can go about it. Make sure you have a dedicated space for the party, so your cat doesn't get scared. 
Consider what kind of party you want to throw and how much you are willing to spend. I recommend focusing on the theme of your cat. Does your cat have a favorite sport? Or a favorite food? 
You can incorporate these things into your party. You can use them in decorations, food, and entertainment.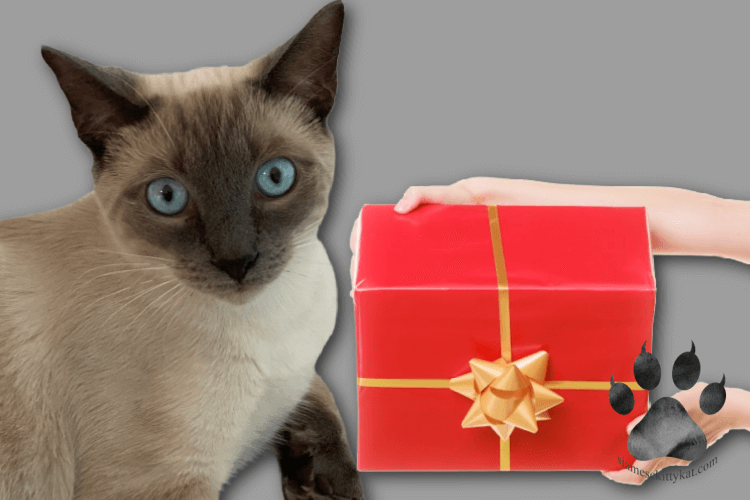 Balloons are also a great way to decorate for your cat's birthday party. Hang them around the house or in your cat's favorite hiding spot. 
5. Remember to give them a birthday present. Toys and special blankets are ideal presents. Even another feline friend to spend their birthday with will be a good present. 
Cats are very particular about what they like and dislike. Giving them something you know they'll like or never knew they wanted can be very satisfying. 
6. Hold a fundraiser for your favorite Siamese cat charity. This is a great way to show your love for your furry friend while also helping out other kitties in need. There are many Siamese cat charities to choose from, so you can pick the one you feel passionate about. 
7. Give your cat a new piece of cat furniture. This could be a new scratching post, a cat tree, or even a simple cardboard box. Your cat will love having a new place to explore and play, and you'll enjoy watching your cat have a blast. 
8. You could arrange a visit to the vet. This is to ensure your cat is up-to-date with its vaccinations and is wearing proper ID tags. Your cat remains safe and isn't in danger of getting lost this way. 
A visit to the vet is not only an excellent time to check your cat's overall health. It can also be a great opportunity to ask questions about your cat's growth and diet. 
9. Have a fun photo shoot with your Siamese cat. Set up a few props and background items in your home or backyard to get started. Let your cat loose to explore and play. Get her to unwrap a few presents, then pose for photos as if your Siamese cat is opening them. 
Try setting your cat up on a little table with a birthday banner and a special birthday cake. You can dress up your pet if you want to get fancy. You can get a festive birthday hat or bow tie, or make your own with some colorful ribbon. 
10. Celebrate your Siamese cat's birthday with a painting session. This can be a great bonding experience for you and your cat and a lot of fun. Plus, your cat will love the chance to get a little messy! 
All you need is some non-toxic paint, a few brushes, and a canvas. You can let your cat roam free and paint whatever they like, or you can help them create a masterpiece. Let your creativity flow, and enjoy the process. 
11. It's fun to look back at your Siamese cats' progress as they grow and age. Take out a few photos of them from when they were kittens. Then, put together a collage to celebrate their birthday!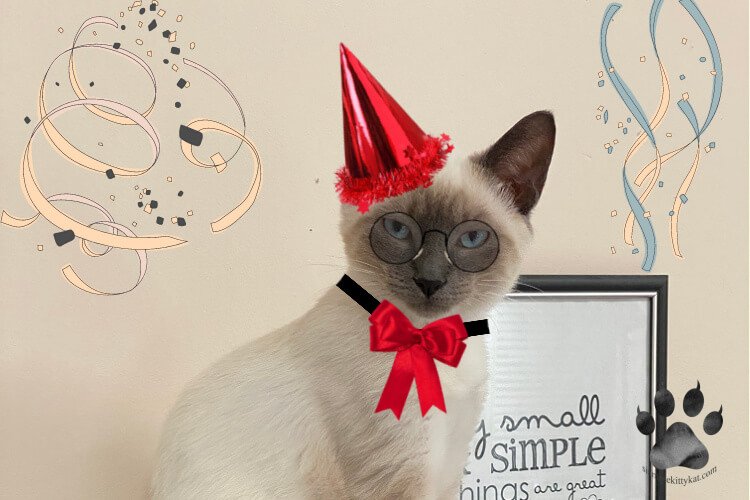 You can also include photos of them as they are now. This is a great way to see how much they've grown and changed. 
12. Siamese cats are such funny and playful creatures. You can celebrate your cat's birthday by sharing funny photos and videos of her on social media. This is a great way to connect with other Siamese cat owners and show off your cat's personality. 
13. Many Siamese cats are indoor animals that are not naturally drawn to going outside. Taking your cat for a walk on his birthday will be fun for your cat. 
Always keep her on a leash, as she may get too excited and try to run away from you. 
14. Spend some quality time playing with your Siamese cat and cuddling with her. This is a great way to show your cat how much you love her and appreciate her companionship. 
You can include your other pets in the celebration. Your cat will love spending her birthday surrounded by the people and animals she loves most. 
15. Giving your Siamese cat a bath and brushing her is a great way to spend time together. Brushing your cat's fur will help her stay clean and healthy. Make sure that you choose the right grooming supplies for your cat. 
For example, you should use a gentle brush and a cat shampoo instead of a human shampoo! You can treat your cat to a special birthday meal after her bath. 
16. Give your Siamese cat some new clothes or accessories to wear. You can find some great outfits and accessories for your cat at your local pet store or online. 
Your cat will love showing off her new wardrobe, and you'll have a blast taking photos of her in her new clothes. 
17. Write a special birthday message for your Siamese cat and post it on social media. This is a great way to ensure that everyone who views your social media gets to know how special your cat is to you. 
18. Go on a picnic with your Siamese cat. Pack up some of your cat's favorite food and snacks and head outdoors for an afternoon picnic in the park. Let your cat explore and enjoy the fresh air and sunshine. Be sure to have a few toys to keep your cat entertained. 
19. Let your cat play some of her favorite games. This will help her to feel happy and excited on her special day. Her favorite games may include chasing a toy around the house, playing with a scratching post, or climbing to high places. Whatever games your cat enjoys, let them have a blast on their birthday! 
20. Celebrate your Siamese cat's birthday by having a cat-themed movie night. You can set up a projector in your living room and invite friends to watch with you. 
Choose some of your favorite cat movies or documentaries, like "Inside the Mind of a Cat." Make some popcorn and catnip-flavored snacks for your cat to enjoy. 
Set up a cozy spot for your cat to watch the movies in, and ensure they have a comfy blanket to snuggle up in. 
21. A bedtime routine is a perfect way to end your Siamese cat's birthday on a relaxing note. You can help your cat wind down and prepare for a good night's sleep by following this few simple steps: 
Conclusion 
I hope you have found fun ways to celebrate your Siamese cat's birthday! As you can see, there are many ways to celebrate this special occasion. I hope you can find some inspiration and have a great time with your cat! 
Thanks for reading!
Get your FREE Siamese Cat 2024 Printable Calendar