Seeing our Siamese cats having some fun with lasers never fails to bring us joy. It is always entertaining to see them try to beat the red light. 
Our cats can have a blast, and we can sit back and enjoy watching them play to their hearts' content. Why do they like lasers so much?
We will discuss why lasers appeal to Siamese cats in this article. Also, let us examine whether lasers are risk-free or harmful to them.
Why Do Siamese Cats Like Lasers?
Lasers drive our Siamese cats crazy, but why? Why do they think it is worthwhile to catch this moving red dot?
These are the reasons why our feline friends like lasers:
What Color Is A Red Laser To Siamese Cats?
Siamese cats overreact when they see the laser's dot, but this is not primarily due to its red color. Our cats' eyes are not particularly good at picking up on red. They almost certainly perceive the dot as a yellow or white color. 
Did you know that our cats' response to the laser is less about the color and more about how it moves? Siamese cats are super fascinated by the laser's zigzagging dot. Our cats become excited by the fast motion the laser makes, rather than its color.
What Are The Benefits Of Playing With Laser Pointer Toys With Cats?
Can Lasers Cause Insanity In Siamese Cats?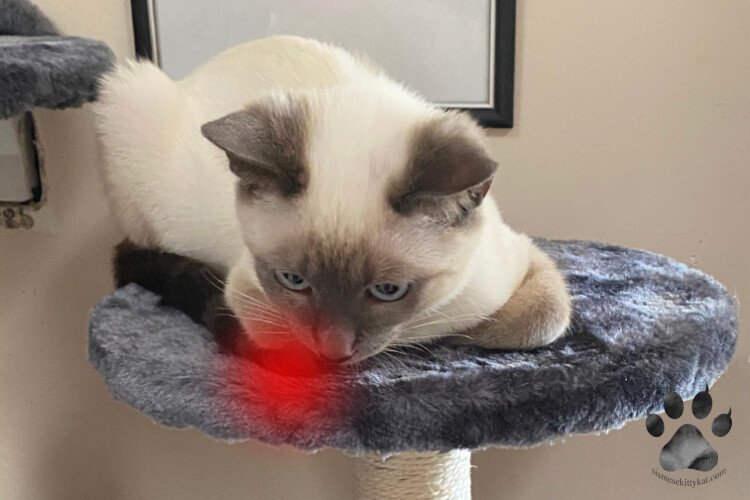 It is a myth that playing with a laser pointer can drive our feline friends insane. This idea is from some who have seen their cats becoming aggressive after a long game of lasers. 
The issue is that cats feel anxious and frustrated when they try to chase the laser, but can't catch anything. This scenario occasionally results in aggressive behavior, which you can avoid by:
Use these strategies for your cat. Your feline friend will have the impression that he has finally won the reward he's been chasing for so long.
Is It Cruel To Play With Your Siamese Cat Using Lasers?
It is not cruel to play laser games with your cat. You simply need to get your hands on some cat-safe laser pointer toys for a safe playtime session. 
Remember that some lasers are safe for humans but not for animals. Exercise caution when selecting a laser pointer toy. 
Here are some safety precautions to keep in mind when playing with laser pointer toys with your cat:
To Wrap It All Up
Siamese cats like to play with lasers, without a doubt. We can let them enjoy this activity as long as we use cat-safe laser pointers. Our top priority whenever we play with them using laser pointer toys is their well-being. It is best to play for a limited time as a general rule. 
Feel free to get creative and think up new exciting games to play with the laser pointer toys. Make each round of your laser game as short, safe, but sweet as possible. Remember to keep the red light away from their eyes. We must always put their safety first.
Thank you for reading! I hope this article is helpful to you.
Get your FREE Siamese Cat 2024 Printable Calendar