Finding the best catnip is challenging. Don't you agree?
I have also tried looking for the best catnip for the past few years! I searched for various styles and blends that best improved my Siamese cats' moods.
I bought several catnips: fine ground, pellets, and liquid spray. Phew! It turned out that some were dry inside, and others were not exactly what Batman and Robyn liked. 
Lucky me, I finally found the best catnips that helped my cats be more vibrant, cheerful, and playful!
I compiled six catnip products that I have tried and love the most! This list is for you if you're having trouble finding high-quality catnip for your kitty!
What Is The Best Catnip For Siamese Kittens And Cats?
Are you not satisfied with the catnips you've tried? I recommend these products: 
1. Cat Crack ( Oregon)
Cat Crack (Oregon) is my favorite! This product gets a five-star rating from me! It's the highest-quality catnip product I've ever used. 
Both Batman and Robyn are on board with this. They love it! Their response to this product was better than the ones they've tried.
My Siamese cats are picky when it comes to catnip. Some catnip products do not affect Robyn, but he approves of this! Batman enjoys the scent and taste of this! He plays with his old Play-N-Squeak interactive cat toy and rolls in delight because of this catnip! 
I will keep buying this catnip as long as I have kitties! 
It's worth it because your cat can play with toys he hasn't played with before. A little bit of it on his interactive toy goes a long way!
Click here for current pricing on Amazon.
2. Cat Weed Catnip
I used this treat last week on Batman and Robyn's hunting and interactive games. Thanks to this product, they had a great day playing and running. They were bonding longer because of the toys. I can say it's worth the try! 
It was like watching them exercise together without stopping. Cat Weed Catnip is one of my favorites! 
It's Batman's favorite too! This product is incredible!
Batman will follow me and stand near the drawer whenever I am about to put it away. He will sit there and give me the "I want more" look. He's always attempting to get more of the Cat Weed Catnip from me. I have to keep changing the location where to keep it!
Click here for current pricing on Amazon.
3. Yeowww Catnip Tub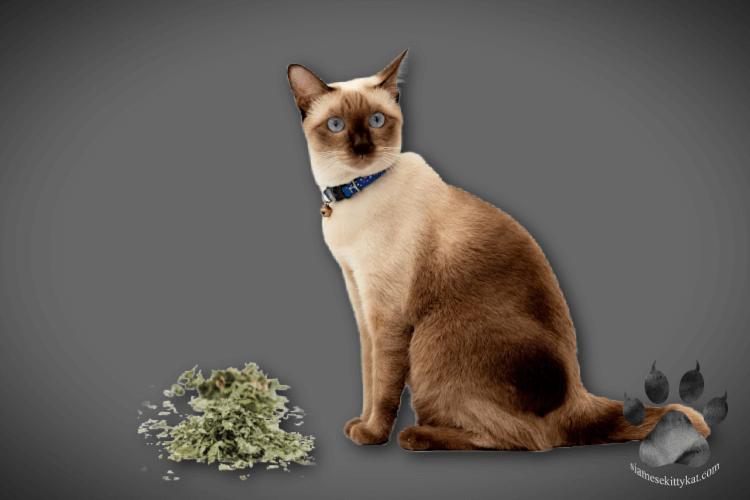 DuckyWorld's Yeowww! Catnip (2 oz. Tub) received the "2012 PET AGE Pinnacle Award". It has many good reviews on its Facebook page and Amazon store. It's the reason I decided to buy the product for my Siamese cats, Batman and Robyn. Yeowww! Catnip does not disappoint!
Yeowww! Catnip Tub has high-quality and organically-grown catnip. It contains pure leaves and flowers from the catnip plant. Even the highest maintenance and fussiest Siamese kitties cannot resist its delights.
Batman usually does not stay around toys with a smell he doesn't like. To my surprise, Batman started playing with the toys with Yeowww. At first, he was curious but changed into a wriggling little cat in no time!
Meanwhile, Robyn kept pushing the toys against her face. She then flopped over on the floor and gave loud meows. I'm pretty sure she had a great time. Then again, whew! Batman wanted the toys with Yeowww Catnip for himself. 
What I like best about Yeowww is that it is in a sturdy plastic container with a tight-fitting cover. Batman tried busting the Yeowww container and couldn't get into it, unlike the other catnips I've used.
Visit here for current pricing on Amazon,
4. From The Field Catnip Spray Rejuvenator
This catnip spray has catnip essential oil and water. It helps rejuvenate your cat's old toys and is safe for kittens and adult cats.
I used this on my old Seal Point cat, Sammy. Cham, our old poodle, died, and Sammy was devastated for a long time. This product helped a lot! Sammy became cheerful again. She also played longer with the scratching post and other toys I bought for her.
Click here for current pricing on Amazon.
5. Fat Cat Zoom Around The Room Organic Catnip
This product comes in a zip-closed plastic bag to keep it as fresh as possible. It has pure catnip leaves and flowers.
Robyn was overweight last year, so I had to take her up for some more indoor fun and activities. I used this product to encourage her to exercise. The product was a big help! Robyn played longer and did not tire so much when she played with more exercise and hunting toys.
I like Fat Cat Zoom because the smell lasts longer than other products. Batman often brings his catnip-filled fluffy toy to play in the toy tunnel or under the sofa.
Click here for current pricing on Amazon.
6. Catit Pure Catnip & Silvervine Mix
This catnip and the silvervine mix is a pure, potent, and safe option for your Siamese cat. It contains no chemicals, pesticides, or other preservatives.
You should buy this if you want your kitty to focus more on the toys he's playing with while you are busy. 
The Catit Catnip draws your Siamese cat like a magnet. You can use it to get your pet to relax longer on the bedding.
I use this to encourage Batman and Robyn to spend more time on their cat tree and scratching posts. It works so well on them! Catit Catnip is worth trying!
Visit here for current pricing on Amazon.
What Are The Uses Of Catnip? 
1. You can use it to encourage more independent play.
2. You can give it to your cat after a hard day alone while you work.
3. It is excellent for helping your kitty relax more.
4. You can use it for your pet's health if he is sad and ill for a long time.
5. You can use it for your cat's exercise and weight management.
6. You can use it as a reward while training your furry kitty.
Can I Give My Siamese Cat Catnip Every Day?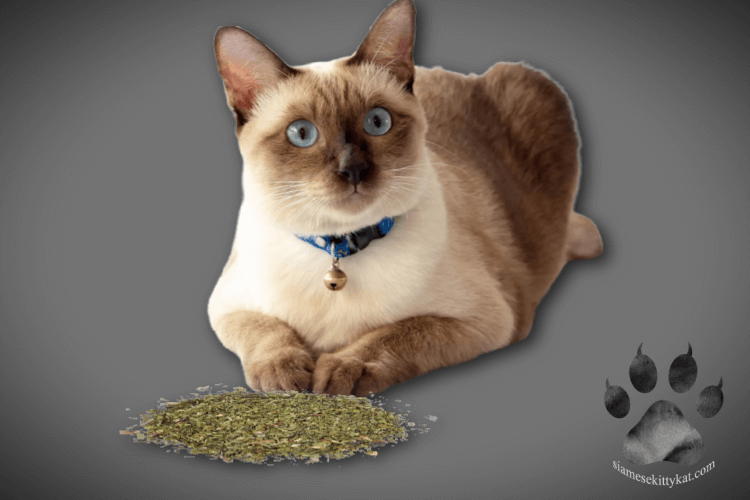 You can, but it is best to give a little bit of catnip at a time. Your Siamese cat may become less interested if you give it to him too often. 
Too much catnip can also cause dizziness and diarrhea. Also, give your pet catnip once a day to avoid an upset stomach.
Does Catnip Make My Siamese Cat Sleepy Or Playful?
1. Your Siamese cat becomes playful when he sniffs catnip. 
Catnip stimulates your cat's active and playful receptors when he smells it. 
2. Your Siamese cat gets sleepy when he eats catnip. 
Catnip has a sedative effect when your kitty feeds on it. He mellows out, feels better, and is more relaxed when he eats it.
3. Some Siamese cats respond to catnip, while others do not. 
It is still a mystery why some cats turn into couch potatoes while others turn into happy furry babies. 
One crucial factor is how long they have been using catnip. Of course, the quality of the catnip also plays a role!
Why Do Siamese Cats Like Catnip So Much?
Catnip has a natural chemical called Nepetalactone. It gives off an odor that Siamese cats love. Sniffing on it triggers a chemical reaction in their brain equal to an aphrodisiac high.
Siamese cats like it so much because it's like pheromones. These pheromones, especially the Apaisins, come from their bodies and elicit behavioral responses.
They get the drug-like effect of catnip via the special glands on their mouth and nasal passages.
To Wrap It All Up
The Cat Crack (Oregon) is the best catnip, according to my two Siamese cats, Batman and Robyn. Any of the other five recommendations are great catnip products too! Catnip is helpful in many ways! It is something every cat parent has to keep on hand. Remember to use it in moderation! Your cat deserves the best possible care and enjoyment!
Get your FREE Siamese Cat 2024 Printable Calendar